Winter Warmers - Cocktails To Beat The Cold in the Winter Chalet
July 12, 2022
Who said winter means slowing down?! If there's one thing worth braving the cold for, it's a day of stellar racing, and what better place to cosy up than at the Winter Chalet (18+) with a winter cocktail in hand?
With its low-slung roof and twinkling fairy lights, the Winter Chalet is a stylish alpine-inspired retreat in Royal Randwick's famous bar, The Stables. Located on level 4 of the Queen Elizabeth Grandstand, you can expect sweeping views over the racecourse for thrilling race viewing, live music setting the mood between races, an eclectic winter cocktail menu and memorable menus.
Plus, there will be Whisky Tasting conducted on the day showcasing some of Ned Whisky's finest.
Here's the Winter Chalet cocktail menu showcasing Australia's own Ned Australian Whisky and Grainshaker Australian Vodka which is  guaranteed to warm you up.
NED OUTCIDER
A winter warmer for the bushranger in all of us. Mulled Apple Cider, spiced with star anise, cinnamon, vanilla and charged with Ned Australian whisky.
Ned australiano
A tall change of pace from the classic, Ned & Cola. Served tall, Ned Australian Whisky, Rosso Vermouth, a dash of aromatic bitters and cola. From Royal Randwick to the shores of Italy.
Ned PEACH BUCK
Inspired by the Kentucky favourite. Heading up the field with NED Australian Whisky balanced with peaches and ginger beer, loaded with freshly squeezed lime and garnished with mint.
Ned's last stand
the classic old fashion, starring Ned Australian Whisky, Mr Black Coffee, Black Walnut and a touch of orange bitter served on the rocks.
Ned BOLVARDIER
The 1930s classic with an Australian star. Ned Australian Whisky, Campari and Australian Sweet vermouth. The Whisky spin off to the classic Negroni.
Ned Australian Whiskey tasting
Ned Australian Whiskey, Ned Wanted Honor, Ned Wanted Ingenuity.
salted caramel ESPRESSO martini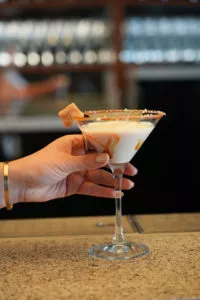 Another beattiful spin off from everyone's favourite martini. Leading with Grainshaker Australian Corn Vodka, Mr Black, Salted Caramel and charged with Espresso Coffee.
GRAINSKAKER HOT FAVOURITE
This is pure decadence, hot liquid chocolate ganache, served with GrainshakerCorn Vodka and toasted marshmellows.
GRAINSKAKER apple mule
The winter twist on the classic mule, Grainshaker Australian Corn Vodka, a hint of chilli (optional), cloudy apple, fresh lime and charged with ginger beer.
Can't wait to try one of these Winter Warmers? They're available in the Winter Chalet at Royal Randwick on 23 July and 6 August. General Admission tickets are $60 and include 'Member for a day' access and a complimentary cocktail. Click here to book your tickets. Member entry is free and includes a complimentary cocktail.
DrinkWise. Australian Turf Club practices the Responsible Service of Alcohol (RSA).
Similar Stories
Winter Warmers – Five Delectable Dishes
In case you missed it, winter is well and truly here. The days are at their shortest, the mornings and..
Read Article