Where to watch the horses at Rosehill Gardens
Racegoers at Rosehill Gardens can get up close with champion horses before, during and after their races.

The Day Stalls
Located at the southern end of Rosehill Gardens Racecourse, past the JR Fleming Stand, the Day Stalls is where horses are stabled on racedays. Horses must arrive at least two hours prior to the start time of their race, and racegoers can view the horses at these pictureseque stalls before each race. If you're lucky enough, you may get the chance to chat to a strapper or pat a champion.
---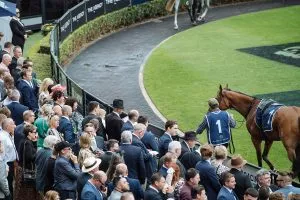 THE parade ring
Approximately 15 minutes before the start of their race, the horses are led from the Day Stalls to the Mounting Yard, which is situated in front of the Members Grandstand. Racegoers can watch the horses parade, see the jockeys mount up and become familiar with race numbers and silks colours. Winning racehorses always have a combination of important traits. Factors such as stamina, strength, speed and competitive nature all need to be considered when picking a winner. A shiny dappled coat often translates as a healthy horse. Is the horse calm and alert? If the horses head is up and they are looking around it means that they are alert and ready to race. Another indicator of alertness is if the horse's ears are facing forward. A defined muscle tone over the horse's buttocks and behind its ribcage points to a strong and healthy horse.
---

Trackside on the Fence
Experience the exhilarating sights and sounds of thoroughbred racehorses thundering down the home straight by watching a race from the fence. Alternatively, take in uninterrupted panoramic views of the entire racecourse from the JR Fleming Stand. Unreserved general admission seating is on Level 2 of the grandstand at the southern end, with Members access at the northern end.
---

race presentations
After Group or Listed races there is a trackside presentation where the celebration continues for the jockeys, owners and trainers as winning sashes and trophies are presented.