Winter Warmers - Five Delectable Dishes to Delight in the Winter Chalet
June 20, 2022
In case you missed it, winter is well and truly here. The days are at their shortest, the mornings and evenings crisp. But there's never been a better time to brave the cold and head to Royal Randwick for a day of great racing and culinary delights guaranteed to give all your friends major FOMO.
With its low-slung roof and twinkling fairy lights, the Winter Chalet (18+) is a stylish alpine-inspired retreat in Royal Randwick's famous bar, The Stables. Located on level 4 of the Queen Elizabeth Grandstand, you can expect sweeping views over the racecourse for thrilling race viewing, live music setting the mood between races, an eclectic winter cocktail menu and delectable dishes set to delight.
Here's a sneak peak at some of the delectable dishes you can order in the Winter Chalet to give your friends major food envy.
MUSHROOM BRUSCHETTA
Warm wild mushrooms matched with fetta make this an irresistible bruschetta . Our culinary team have added a tomato tapenade and balsamic glaze to make this a perfect raceday starter to share with friends.
loaded fries
There's something about potatoes that makes them a comfort source throughout the colder months. If you're looking for something that's a little indulgent, there's nothing better than a large serving of fries, topped with chorizo, chipotle aioli and cheese melt? Perfect as an appetizer or side, these are easy to devour with friends.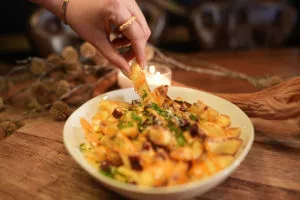 Gnocchi ragu
Melt in your mouth goodness, our slow cooked rosemary lamb shank ragu is the ideal comfort food. The light and fluffy potato gnocchi pillows will give you a taste of the Italian countryside, right here in the warm comfort of the Winter Chalet.
Sticky Date Pudding
Warming spices, a moist sweet date pudding topped gooey salted caramel fudge sauce and vanilla bean ice-cream, need I say more?
Apple Crumble
When it comes to beating the cold, you can't go past a humble crumble. Filled with a delicious, warm rhubarb spiced syrup and soft caramelised apple, topped with crunchy oatmeal topping and pistachio ice-cream this will dazzle your taste buds like never before.
If you're eager not to miss these Winter Warmers, Home Comforts and Sweet Treats they're available exclusively in the Winter Chalet at Royal Randwick on 26 July and 6 August. Tickets are $60 and include 'Member for a day' access and a complimentary cocktail. Click here to book your tickets. Member entry is free and includes a complimentary cocktail. Members can book here.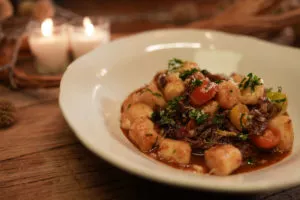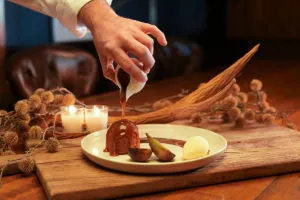 ---
Similar Stories
Cocktails To Beat The Cold in Winter Chalet
Who said winter means slowing down?! If there's one thing worth braving the cold for, it's a day of stellar..
Read Article