March 3, 2020
The best bars to EAT OR kick-on after a day out at Royal Randwick…
The Star
With nine (yes nine!) individual drinking holes under one roof, The Star is your oyster for a post-races party. Feeling sophisticated? Sip on cocktails with a distinctly Japanese vibe in Sokyo Lounge, or take a tour through the cities of Italy with Balla Aperitvi's plush cocktail menu. Feeling zen? Watch the sun go down from the beautiful rooftop bar Sky Terrace to fresh DJ sounds with a chilled rosé in hand. Feeling like you need to move? Head down to super club Marquee to let loose on the dance floor after dark. Helpful tip: You could always just bar crawl the entire establishment!
80 Pyrmont Street, Pyrmont NSW / More info
The Golden Sheaf
An all time favourite you simply can't go past for a good time on a Saturday night after the races (unless attending one of the other worthy options on this list). With its outdoor beer garden, pumping dance floor and lively sports bar, Double Bay's finest is packed every weekend for good reason.
429 New South Head Road, Double Bay NSW / More info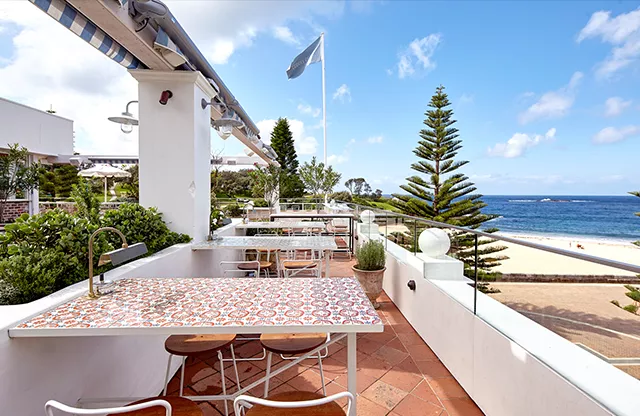 Coogee Pavilion
You can be sure the killer view of Coogee Pavilion's rooftop outdoor terrace will be silhouetted by many a race-goer after any of Royal Randwick's meets. With the aforementioned view, multiple levels, funky tunes and a packed D-floor you would be a fool not to join them. The clincher is its just 12 minutes in an Uber from Royal Randwick.
169 Dolphin Street, Coogee NSW / More info
The Woollahra
What better way to top off a top day at the track than with espresso martinis at the Woollahra? You know it will be packed on a Saturday night and offer guaranteed good times.
116 Queen Street, Woollahra NSW / More info
Darlo Country Club
Darlo Country Club's usual soundtrack of classic dancefloor favourites make it a solid option after a day at the track. Bust moves with your crew to celebrate your wins at the track in style (or shake out the losses).
235 Victoria Street, Darlinghurst NSW / More info
The Beresford
It's big, it's happening, it's fun, and it's centrally located. The Beresford's large outdoor courtyard is the perfect place to say cheers to a fun day at the track.
354 Bourke Street, Surry Hills NSW / More info
The Doncaster
"The Donny" is somewhat of a horseracing establishment in Kensington, with its walls adorned with racing paraphernalia and that local pub feel (this is becoming increasingly harder to find these days in Sydney). At just a ten minute walk from Royal Randwick it's an easy choice for a post track celebration, and you can bet it will be teaming with your fellow punters on any given Saturday evening after a raceday at Royal Randwick.
268 Anzac Parade (corner of Doncaster Avenue), Kensington NSW / More info
The best bars to EAT OR kick-on to after a day out at Rosehill Gardens…
Rosehill Bowling Club
The official raceday after-party venue for Rosehill Gardens racedays is Rosehill Bowling Club. Located conveniently across the road from the racecourse, you can easily walk over and won't have to worry about surge prices on an Uber or waiting in line for a taxi.
If there's a raceday at Rosehill Gardens you can rest assured there will be live music in the form of a DJ, and bands on bigger Carnival days, plus an extensive drinks list and food menu to satisfy your post-raceday cravings – all decently priced!
James Ruse Dr & Hassall Street, Rosehill NSW / More info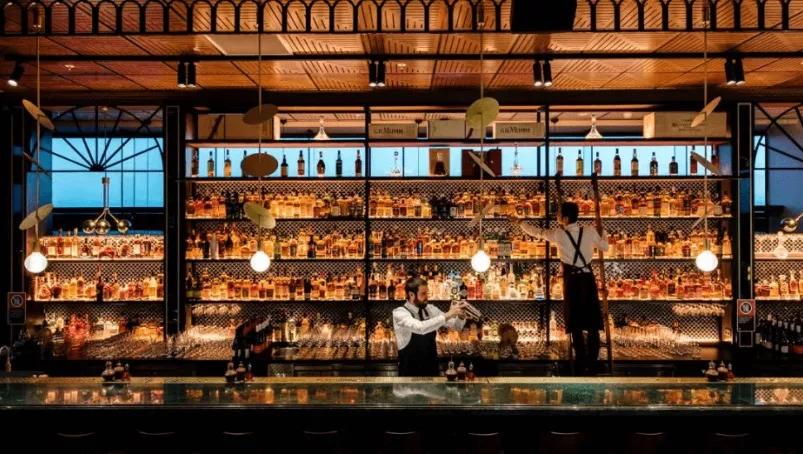 Nick & Nora's
If you're not sold by the skyline views of Parramatta, the food and drink menu will do the trick! From the most mouth-watering canapes, fresh oysters, to the most delicious range of build-your-own cheese board ingredients, here you will be absolutely set after a day at the races.
Located on the 26th floor of V by Crown, this exceptional skyhigh rooftop bar is one not to be missed.
Level 26, 45 Macquarie Street, Parramatta NSW / More info
Rydges Parramatta
The bar names say it all: The Champs Bar and Winning Post Bar of Rydges Parramatta are the go-to watering holes for many Rosehill racegoers seeking to continue the party into the evening. Also with live music in the beer garden on raceday Saturdays, Rydges Parramatta is a classic choice to top off a day at Rosehill races. Decisions decisions!
116-118 James Ruse Drive, Rosehill NSW / More info
Eat Street, Parramatta
Not sure what your taste buds are feeling like? Head to Eat Street, located on Church Street Parramatta. This foodie option suits any budget, or occasion with endless choices such as burgers, Thai, pizza, Italian, Indian, Mediterranean, dessert, Mexican or set yourself up at a bar for a cocktail. Even your pickiest friends will be spoilt for choice in this foodie haven.
215-217 Church Street, Parramatta NSW
Similar Stories