OWNER OF THE MONTH - RICHARD JOHNSTON
October 26, 2021
The Australian Turf Club is happy to announce the 'Australian Turf Club Owner of the Month' for October is Richard Johnston.
Our Owner of the Month award is awarded to an owner who has achieved success at ATC meetings over the last month and allows us to share Owners experiences and memories like Richard Johnston's with our fellow Owners.
Richard Johnston has enjoyed a fabulous month with his horse Think It Over. The six-year-old gelding produced back to back stakes wins with the Group 2 Yulong Hill Stakes and Group 3 Yulong Craven Plate. A date with the $750,000 Rosehill Gold Cup (2000m) looms for Think It Over, who would earn an additional $1 million if he were to complete the double with the Craven Plate. Think It Over is trained by provincial based Kembla Grange Trainer Kerry Parker. The ATC congratulates Richard Johnston on his successes over the last month.
What was your first memory of horse racing ?
I was born in in 1945 and spent my childhood in the working-class suburb of Granville in Western Sydney. As was not uncommon for the time, we lived with extended family, namely my Uncle Jack and Grandmother Mary, both of whom loved a punt and as such, I was exposed to the Sport of Kings at the tender age of six.
Saturday mornings would have Uncle Jack and I pouring over the form guide and listening to Radio 2KY for the days scratchings and track conditions. Having a bet off course in those pre-TAB betting agency days could get you arrested but this did not pose much of a deterrent for Uncle Jack (I hope that my young age and statute of limitations will ensure I don't get in trouble for this admission).
Our next-door neighbour was the local postman who also moonlighted as the neighbourhood SP Bookie. Because we lived in a semi-detached house, to place a bet you simply knocked on the common wall, walked out to the backyard and then handed your bet over the fence. Settling of bets generally took place around 10am the following morning.
So that was my introduction to horse racing and as a result, I was destined to have a lifetime affinity with horse racing.
I believe that being introduced to the punt at such an early age sharpened my arithmetic skills. For example I had no difficult calculating the return on my wager of 1/6d each way at 15 to 4, something kids today would have caused them to reach for their calculator!
As far as literature was concerned, The Trotsguide, Best Bets and the Greyhound Recorder were compulsory reading in my house, with last weeks copies consigned to the outside dunny. We were even into recycling back in those days!
Whilst I appreciate not everybody approves of gambling (and likely fun in general) at the end of the day, life presents you with challenges and I learned very early on that often in business you have to take risks to achieve a desired outcome, much like having a bet.
What made you get into horse ownership?
I first dipped my toe into horse racing in the mid 1980s. I had a friend who was an ex-jockey and he had taken out a trainer's license at Kembla Grange. I bought a 50% share in three horses, their pedigrees now escape me, but suffice to say, they were not world beaters!
One of them, named Cabot, won his maiden handicap at Kembla Grange with Peter Cook riding him and looked like he would go through his grades, but unfortunately Cabot suffered a suspensory ligament injury and had to be retired.
A downturn in the economy and the need to focus on my business in 1988 necessitated my withdrawal from horse ownership.
Best moment you ever experienced on a racetrack as an Owner?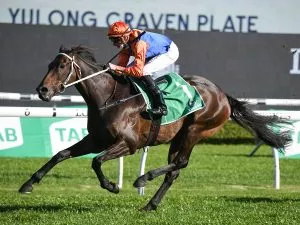 Not only were we celebrating his first Group 1 win in the George Ryder, but he now had automatic entry to the Doncaster, with only 52.5Kg on his back, we figured he would be very competitive.
Sadly, Think It Over was injured in the float and scratched twenty minutes before start time.
This was a crushing blow for his trainer, Kerry Parker and I am sure he wouldn't be ashamed to admit that he was in tears when he called me to tell me Think It Over had been scratched.
This was such a typical example of the "Snakes and Ladders" nature of our industry or as they say "That's racing!".
What horse do you have the fondest memories of and why?
Whilst I have many fond memories of many champion Australian racehorses, including modern crowd favourites such as Winx, Black Caviar, Sunline, Might and Power and Makybe Diva, the horse that I have the greatest affection for is Tulloch.
I got to see this magnificent horse run (and mostly win) at every one of his Sydney starts and his famous rivalry with that other great champion, Todman was something to behold at Royal Randwick Racecourse with a capacity crowd of 60,000 or more cheering on either of these two great horses.
Todman had no shortage of admirer as he once beat Tulloch by ten lengths.
I remember being at Royal Randwick, which was filled to capacity with punters. The atmosphere was electric!
In anticipation of the forthcoming battle of tactics between two of Australia's greatest jockeys, George Moore and Neville Sellwood astride two of the best horses at that time.
Whilst Tulloch's ultra-impressive race record of 36 wins and 16 places from his 53 starts was amazing to witness, it was Tulloch's three year battle to recover from colic to resume racing that forever endeared this marvellous horse to a thirteen year old admirer.
What is the best horse you've ever owned ?
As a breeder and owner, I have been very fortunate to breed some capable and indeed, amazing horses.
Amongst this pantheon of champions are four Group 1 winners that include; Mosheen, Dreifontein, Luger and of course, most recently Think It Over. Collectively these 4 horses have won a total of 8 Group 1 races, including;
The Vinery Stud Stakes
The Crown Oaks
The Australian Guineas
The Randwick Guineas
The Storm Queen
The George Ryder
The Sangster
The Hong Kong Derby
Whilst Mosheen, Dreifontein and Luger were all sold as yearlings, I am immensely proud to have played a role in their creation and successes.
So, I have to say the best horse I have ever owned has to be Think It Over. And the good thing about him is that he gives every indication that his best years are still ahead of him.
After his win last Saturday in the 2021 Yulong Craven Plate, he is now eligible for a million-dollar bonus, which is certainly not to be sneezed at!
What current horse that you are in ownership of are you most looking forward to seeing progress over the upcoming months ?
I currently have three horses in the early stage of their careers which I am extremely excited about.
"Encentivar" who is three-year-old Vancouver filly that needed a little extra time but is making great progress.
"Fooled Again" is a two-year-old Sebring filly and a full sister to Charlayne
"Moorestown" who is a two-year-old Shalla colt and a strong fellow
I look forward to these three getting to the track in due course but won't rush them. I believe too many horses are pushed too early and consequently are failed by their trainers and owners after what can be a punishing two years of preparation.
What is the best post-race day celebration you have ever had as an owner ?
Standing on that podium when your horse has a win! And the congratulations and back slapping of fellow punters that have backed your horse as you navigate the crowd with a trophy in tow!

What is the best race day experience you have ever had ?
Apart from the wins, there is nothing like the excitement and anxiety leading up to start time to remind you that you're alive!
What is your favourite story of one of your retired horses and their life after racing ?
I gave a retired five-year-old gelding to a young girl for her to pursue her interest in dressage. She wrote me the sweetest letter telling me how well they were getting on and how much she loved him and how grateful she was for me giving him to her.
That was five years ago and no doubt she has discovered boys now, but I do hope she still finds time to ride him.
I have always been able to re-home my retired racehorses, mostly to private individuals but sometimes to riding schools.
I have sent two geldings to the Muswellbrook Correctional Centre where the inmates get to look after the horses.
Having spent a lot of time with horses, I know full well how they can have a very positive and calming effect on those that care for them, and I am so happy that both the inmates and horses get a great second chance in life.
Another horse went to Western Sydney University where he is the resident physiology case study at the Animal Husbandry campus to teach veterinary students.
What piece of advice would you give to people looking to get into horse ownership?
Go to the sales and observe the process.
Meet with several syndicators and bloodstock agents and find one that you are comfortable with and set a budget on how much you are willing to spend.
Ask yourself "Why am I doing this?" If it is for the wonderful social side of racing, consider joining one or more syndicates.
Racing horses is both addictive and expensive and syndication is the most obvious and cost-effective way of enjoying the best of the world of horse-racing.