OWNER OF THE MONTH - BRUCE NOBLE
September 21, 2021
The Australian Turf Club is happy to announce the 'Australian Turf Club Owner of the Month' for September is Bruce Noble.
Our Owner of the Month award is awarded to an owner who has achieved success at ATC meetings over the last month.
Bruce Noble has enjoyed a fabulous month with his two horses' Jamaea and Count De Rupee. Three year-old filly Jamaea won the Group 2 Darley Furious Stakes. She now will head to the Group 1 XXXX Golden Rose. Noble has also achieved a win with the consistent Count De Rupee in a benchmark 88. All of Noble's horses are trained by provincial based training partnership of Rob and Luke Price. The ATC congratulates Bruce Noble on his successes over the last month.
The newly introduced Owner of the Month allows us to share Owners experiences and memories like Bruce Noble's with our fellow Owners.
What was your first memory of racing?
As a kid growing up, I loved to listen to the Melbourne Cup. It was a race that captured everyone's attention, even if you were not interested in horses.
In those days it was Aussies verse the Kiwis to see who had the best staying horse.
What made you get into horse ownership?
My twin brother Ken and I were brought up on our dairy farm in Gerringong, where we had our own horses to ride.
Our first experience in horse racing was with the Robinson family at Berry. Kevin and Terry trained horses for us.
Our horses are now trained at Kembla Grange by Robert Price and his son Luke, son in law and grandson of Kevin Robinson.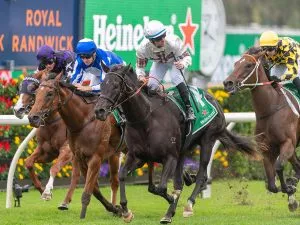 Best moment you ever experienced on a racetrack as an Owner?
Jamaea's win in the Group 2 Percy Sykes at Royal Randwick earlier this year. The way she came home from the tail of the field to win, in front of a large crowd was exciting and exhilarating!!
What horse do you have the fondest memories of and why?
My Brother Ken and I purchase all of our yearlings. Step Forward is one of our favourites. He was a horse that won a lot of country cups and ran placings in the city. We had a lot of fun with him.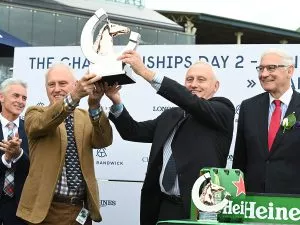 What is the best horse you have ever owned and why are they so special?
Jamaea is a small filly in size but has a terrific will to win. She has a personality and temperament all of her own (attitude), loves a pat one minute and bite you the next. Not many race horses have her turn of foot in the last 300 metres.
What current horse that you are in ownership of are most looking forward to seeing progress over the coming months?
Count De Rupee has great potential. He does everything at the moment on raw ability, still about six months away from putting it all together.
Favourite part of race day experience as an Owner?
The best experience as an owner is seeing your horse first past the post. The jubilation you feel, and then the celebration with the trainer and friends is wonderful.
What is the best raceday celebration you ever had?
When we were working in the building industry, we would go to Kembla Grange in December each year for what we called our "Carpenters Picnic Day". A bus was hired for the event and anyone was welcome to join us for a fun day. Yes, we all over indulged, drinking and punting on whatever, where ever we could, just young people having a great time! Good memories.
What is the best post raceday celebration you had as an owner?
After Jamaea won the Percy Sykes, we drove two hours home to Gerringong and had a celebration with Rob, Luke, our Family and friends at The Hill Bar & Kitchen.
What piece of advice would you give people looking to get into horse ownership?
Start with a small investment, by buying a share in a racehorse, it is affordable and will introduce you to people in the game. I believe, having a trainer close to where you live is important. It allows for greater participation, as you can visit the stables and see the horse, connect with the all involved and enjoy the whole package associated with owning a race horse.
What horse would you most have liked to own and why?
I would say Kingston Town, not many horses can win sprint races and then nearly win the Melbourne Cup! He was a true champion.
What is your favourite story of one of your retired horses and their life after racing?
I could not single one out because all our retired horses go to good homes. Some have become Show Jumpers, others pleasure horses. The main thing is that they live their remaining years in comfort.
Similar Stories
OWNER OF THE MONTH – LOUIS MIHALYKA
The Australian Turf Club is happy to announce the introduction of the 'Australian Turf Club Owner of the Month'. This..
Read Article
OWNER OF THE MONTH – MERVYN WOOD
The Australian Turf Club is happy to announce the 'Australian Turf Club Owner of the Month' is Mervyn Wood. Mervyn..
Read Article