January 15, 2021
Formed in 1943 by act of Parliament, the Sydney Turf Club spent its first few years deciding which racecourses it was going to use. There were a variety of racecourses around Sydney, which at that time were run by proprietary clubs such as Moorefield, Kensington, Victoria Park, Rosehill, Rosebery, Ascot and Canterbury.
Before their choices of Rosehill and Canterbury were finalised, the Sydney Turf Club held several race meetings at Randwick Racecourse in 1944 – the first of which was held on Saturday, 15 January – 77 years ago today.
The Australian Turf Club Heritage Centre has a signed invitation card sent by the Lord Mayor of Sydney, Alderman R.J. Bartley, to the directors of the Sydney Turf Club inviting them to lunch at the Sydney Town Hall on 19 January 1944 to commemorate the first race meeting run by the STC the previous Saturday, 15 January.
The attendees of the lunch all signed the invitation card.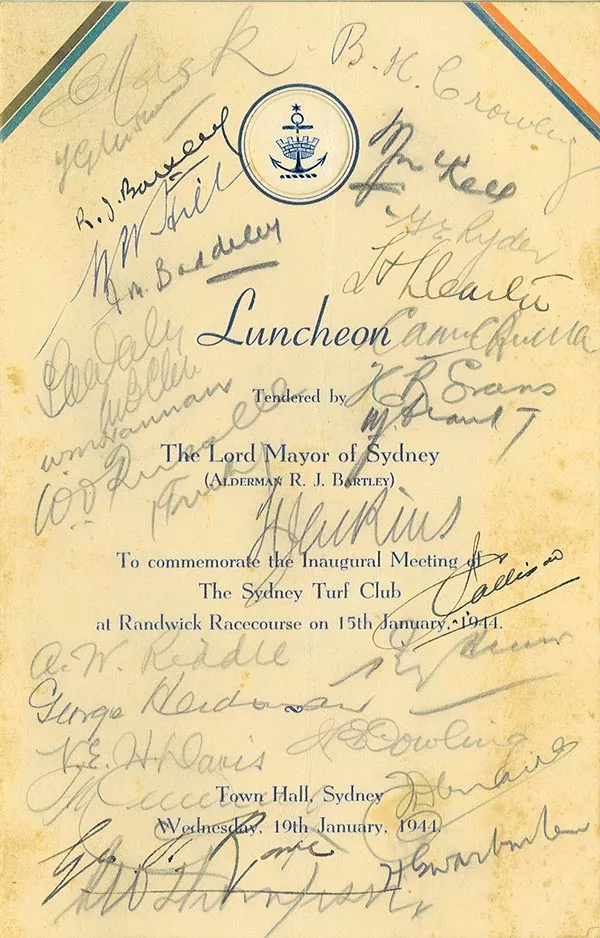 Image: the invitation card, ATC Heritage Collection