On This Day - 90 years since Phar Lap passed away
April 5, 2022
Did you know that today, Tuesday 5 April 2022, marks 90 years since legendary horse Phar Lap passed away?
In memory of the champ, we look back at his racing history, exploring his place as one of the most famous names in racing.
Despite being foaled in New Zealand Phar Lap was embraced as an Australian champion as the big chestnut gelding raced into the hearts of racegoers with record breaking wins.
HOW HE WAS NAMED
There are a couple of versions of how Phar Lap got his name. The words mean 'lightning' in Thai and a southern Chinese dialect. One story is that an Indonesian dignitary was visiting, saw him tearing around his paddock, and dubbed him lightning.
Alternatively, research by Michael Lennie uncovered Aubrey Moore Ping, a medical student at the time who was friends with Tommy Woodcock. Ping watched Phar Lap at track work in Centennial Park while he was studying at Sydney University and suggested lightning as a good option for the horse. The Zhuang language from southern China had similar words to the Thai language and the word for lightning was one of them. And so, he became Phar Lap.
Did you know? The story was lost as Ping had an unassuming nature and did not speak of his part in the legend that would become Phar Lap.
RACING IN AUSTRALIA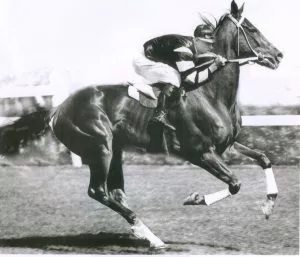 It took Phar Lap five starts to find his form. He had his first win at, Australian Turf Club venue, Rosehill Gardens. On 1 April 1929, ridden by Jack Baker, the then youngster crossed the finishing post to win the Maiden Juvenile Handicap by half a length in 1:15.5. His next win was in the Rosehill Guineas, then in quick succession came the AJC Derby, Craven Plate and VRC Derby. His success had been slow in coming, but the AJC Derby win in record time is now recognised as the beginning of his legendary status.
In his few short racing years, he managed success after success. He would have another two wins in the Craven Plate, the Chipping Norton Stakes, the AJC ST Leger, and the AJC Plate (three times). Phar Lap came third in the 1929 Melbourne Cup, and then carrying a massive weight of 62.5kg won the 1930 Melbourne Cup. His last start in Australia in 1931 was in the Melbourne Cup. Carrying 10.10 from an outside barrier he could not make a place, finishing eighth. Phar Lap ended his Australian racing career with 35 wins from 49 starts, only nine times unplaced and a record amount of prizemoney.
RACING IN AMERICA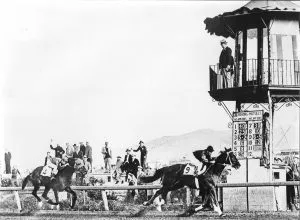 It was announced that he would travel to the United States, with his first race to be the Agua Caliente Handicap at Tijuana, Mexico. In November 1931, Phar Lap was loaded onto Ulimaroa and shipped to New Zealand before the long journey to the US on the Monowai. A special stall had been made for him as well as a small walking enclosure and a sand roll. His strapper Tommy Woodcock had to stay with him the whole time as the journey made Phar Lap nervous. In January 1932 they reached San Francisco. Later in the month they headed down to Mexico.
Phar Lap was favourite and ran as such. He won the 1 ¼ mile race in a track record time of 2:02.8, beating Reveille Boy by two lengths. It would be his last race.
PASSING
The abrupt ending to his career was met with disbelief. Some cried conspiracy and others suggested "well that's racing for you". A promising career overseas had been developing, and though as a gelding he would not have sired any progeny, he had a few more good years of racing left in him. The exact cause of his death is still unknown. In the early hours of April 5, 1932, Tommy Woodcock checked on Phar Lap and found him with a fever and irregular heartbeat. The vet was summoned but could do nothing.
REMEMBERING PHAR LAP
Many years later, the name of Phar Lap was still strong. A wreath of roses and frangipanis decorated with red, black, and white ribbons appeared at Royal Randwick on 6 April 1944 with the brief message "A Digger's Tribute". It took a bit of digging, but the Telegraph explained that the late date was due to the delay of the news arriving in Australia. The colours reflected when Phar Lap raced on lease by trainer Harry Telford, and the man who laid it was Private N. F. Hickey. He was stationed in New Guinea and did a whip round amongst his mates to collect enough to send back for the wreath to be laid. Even on his return, Hickey continued to lay a wreath each year. He was forgotten, making the appearance of the wreath a magical moment.
In 1975, the headstone from Phar Lap's grave in America was presented to the AJC by Mrs Beverley Bittner. The wreath continued to appear, now set next to the headstone. It was Bert Lillye who tracked down Noel Hickey and re-told the tale of the WWII digger who remembered Phar Lap.
The headstone is still present in the grounds at Royal Randwick. Now it is situated in the gardens beyond the Theatre of the Horse.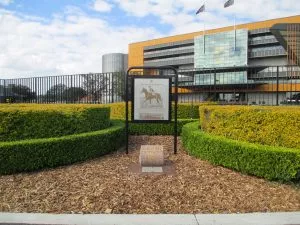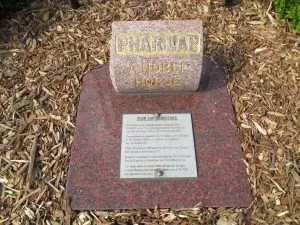 Similar Stories