Five Questions With Peter Tighe
August 11, 2021
Peter Tighe is a member and manager of Magic Bloodstock Racing and part owner the famous mare, Winx. Peter is an avid racing fan and ATC Member, and with Winx Stakes Day around the corner it's the perfect chance to catch up with him and reminisce on some of his fondest memories.
1: What is your earliest or favourite memory of horse racing?
Going to the races with my father at a very early age is my favourite memory. I just loved the whole experience.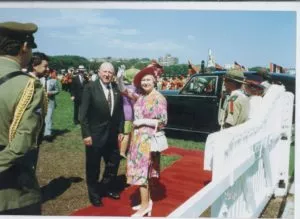 2: If you could meet any horse or racing personality dead or alive, who would it be?
Horse: Phar Lap and Person: Her Royal Highness Queen Elizabeth II
Did you know: Queen Elizabeth II visited Royal Randwick in 1992. Want to know more about Royal Randwick's iconic history? Click here.
3: If you had one tip about attending the races, what would it be?
Arrive at the races with a positive attitude and enjoy all that racing has to offer and you will never go home a loser.
4: What is the favourite thing about BEING A RACEHORSE OWNER?
Meeting all the many characters and personalities that go racing and the great times which we have had and continue to enjoy with everybody.
5: And… rather importantly, what was YOUR FAVOURITE WINX MOMENT?
Very hard to tie it down to one moment, it would be the entire journey over the five-year period with highlights being the first and fourth Cox Plates and the last Longines Queen Elizabeth Stakes win.
BONUS QUESTION:  If you were a racehorse, what would you be called?
Slow and Steady
Winx Stakes Day is just around the corner on Saturday, 21 August. For tips on how to watch and celebrate at home, click here.