Five Questions With James McDonald
September 23, 2021
James McDonald is one of Australia's leading jockeys and not to mention five time recipient of the Sydney Jockeys' Premiership. We recently caught up with him to chat about his love of racing, what he does in his spare time and what his career aspirations would have been if he didn't become a jockey.
1. What do you do to prepare before a big racE?
Stick to a routine. So for me that's swimming in the ocean, going for a run, having a sweat in a bath if I need to get down to a light weight. Eating very light like steamed fish, lean steak, green vegies or salad, banana or poached egg. Playing with my dog is a nice distraction too. Routine helps keep me in a calm and clear head space.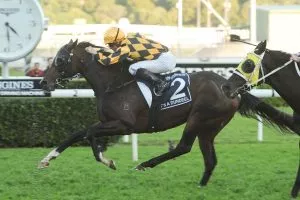 2.You've won 55 career Group 1 races to date, what has been your most memorable or favourite win?
It's too hard to call. Dundeel was a pretty special horse and winning the Queen Elizabeth on him was amazing. Also loved riding The Autumn Sun and of course Nature Strip, Verry Elleegant and a heap of others. Nature Strip's TJ Smith win this year was pretty awesome.
3. If you had one tip for aspiring jockeys, what would it be?
Being disciplined and prepared to work really hard is essential, but also being prepared to make mistakes and learn from them is equally important. Doing your homework on competing horses and riders is Finding something you enjoy other than racing to take a mental break is pretty important too. For me, I love playing golf and travelling Europe.
4. What is the favourite thing about your career?
I love the feeling of winning and getting the best out of a horse.
James McDonald has had over a 1000 career wins. 
5. If you weren't jockey, what would you be?
A dairy farmer or maybe a bloodstock agent.
Catch James McDonald and the star colt, Anamoe this Saturday in the Group 1 $1million XXXX Golden Rose at Rosehill Gardens.
View our tips on how to celebrate at home here.
Similar Stories
Five Questions With Jules Robinson
Meet Everest Carnival Fashion Stakes Ambassador Jules Robinson. Mum, wife, entrepreneur and ambassador Jules Robinson's passion and drive knows no..
Read Article
Five Questions With Tommy Berry
To mark R U OK Day? on 9 September, we caught up with champion jockey Tommy Berry to ask him..
Read Article