Five Questions With... An Equine Dentist
August 5, 2021
Just like humans, horses teeth continue to grow throughout their lives. Therefore it's vital for them to have regular check ups with a dentist, just like we do. We spoke to Jason Lee, former jockey turned equine dentist, to learn a fun fact or two about his love of the horse and equine dentistry. 
1: What is your earliest or favourite memory of horse racing?
Having racing stables in our back yard in Kensington and my family being heavily involved in the industry. 
Jason grew up in a racing family, his father and uncles were all Randwick based trainers. His uncle Jim trained the 1983 Caulfield Cup winner, Hayai.  
2: If you could meet any horse or racing personality dead or alive, who would it be?
Probably Phar Lap, watched the movie over and over as a kid and knew the script back to front.
The Phar Lap film was released in 1983 catch a glimpse of it here:
3: If you had one tip about attending the races, what would it be?
Make sure you watch the races live from the winning post.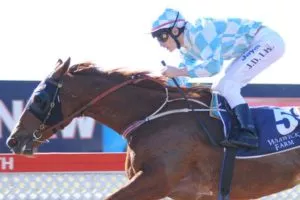 4: What is the favourite thing about your JOB?
I am lucky enough since retiring as a jockey that I get to continue a profession with horses and still work in the industry and handle horses on a daily basis. 
Jason is a former jockey; he spent time riding for John O'Shea among other well-established trainers as well as completing a stint in Macau. 
5: And… rather importantly, what is A FUN FACT ABOUT HORSES TEETH YOU CAN SHARE WITH ME?
They lose their front teeth in the same order that humans do.   
Find out more about Jason and the what an equine dentist does below:
Similar Stories
Five Questions With Bobby the Bugler
The bugle has been a familiar sound and beloved feature of our race meets for years. It is the sound..
Read Article
Five Questions With Ray Thomas
He's the racing editor at News Limited and a presenter at Sky Radio, so it's safe to say that Ray..
Read Article