Five Questions With A Sales & Bloodstock Manager
September 2, 2021
Careers in the horse racing industry can vary from administrative roles to those roles where the individual works directly with the racehorse. This week, we caught up with Sales and Blood Stock Manager Claudia Miller from Gai Waterhouse & Adrian Bott Racing to hear more about her role plus her hot tip for Everest Carnival.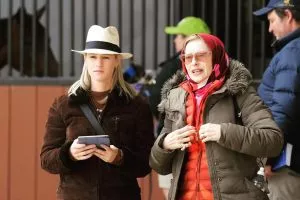 1. what does a sales and block stock manager do?
My role as Sales & Bloodstock Manager is quite diverse which is what I love about it. My main role is to sell the horses we purchase each year, whether that be yearlings or tried horses. I assist Gai and Adrian in the selection process and I am the main point of contact for our existing clients and those who are looking to get involved with the stable through ownership. My favourite part of the role is seeing the yearlings progress and develop into racehorses. The educational process is fascinating and it is amazing how much the yearlings change in such a short space of time. Before you know it, the 2YO season has started and it's full steam ahead.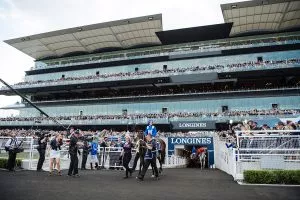 2. what is your earlist or favourite memory of horse racing?
My favourite racing memory is when Winx won the Longines Queen Elizabeth Stakes in 2019. I have never seen a crowd like it. It was the end of an era and a day I won't forget.
3. if you could meet any horse or racing personality dead or alive, who would it be?
I would have loved to have met TJ Smith. 33 consecutive trainers' premierships and 279 Group 1 winners. A true Australian icon who came from nothing.
4. if you can't be on the track this spring, any tips for celebrating the races at home?
A Zoom race day is always fun. Get your friends together, dress up, put out a cheese board and a bottle of champagne (or two) and make sure you celebrate the wins.
Celebrate Everest Carnival at home with our exquisite Tastes from The Track Hampers that have been specially curated by Australian Turf Club's award-winning Executive Chefs George Mullen & Gerry Maher. On sale soon.
5. and rather…importantly, which horse will you be watching this Everest Carnival?
He had a slight setback this preparation but I'm really looking forward to seeing Anamoe step out this Spring. He has the scope and pedigree to really go on with it as a 3YO and being a mid-November foal, you expect the best is still to come from this colt.
BONUS QUESTION:  If you were a racehorse, what would you be called?
Small And Mighty.
Want to know how you can enjoy a raceday from home? Click here for our best tips!