LEGENDS OF THE TURF LOVE JOINT BILLING AT ROYAL RANDWICK
October 19, 2022
For more than 60 years Ken Callander and Max Presnell have covered racing as rivals at work but also as long-time friends.
It is this bond that has made the naming and running of the inaugural $1 million Callander-Presnell extra special for it's dual acknowledment.
Kenny and Max have built renowned reputations in the Australian racing industry over decades of hard-nosed writing, poetic features in print and long stints on TV and radio.
Their love of racing and more than 60 years of memories at racecourses make them two of Sydney's most popular and unique figures amongst punters and participants.
In the lead up to the running of the Callander-Presnell we asked them for some brief thoughts on favourite memories and what it means to have a $1 million race in honour.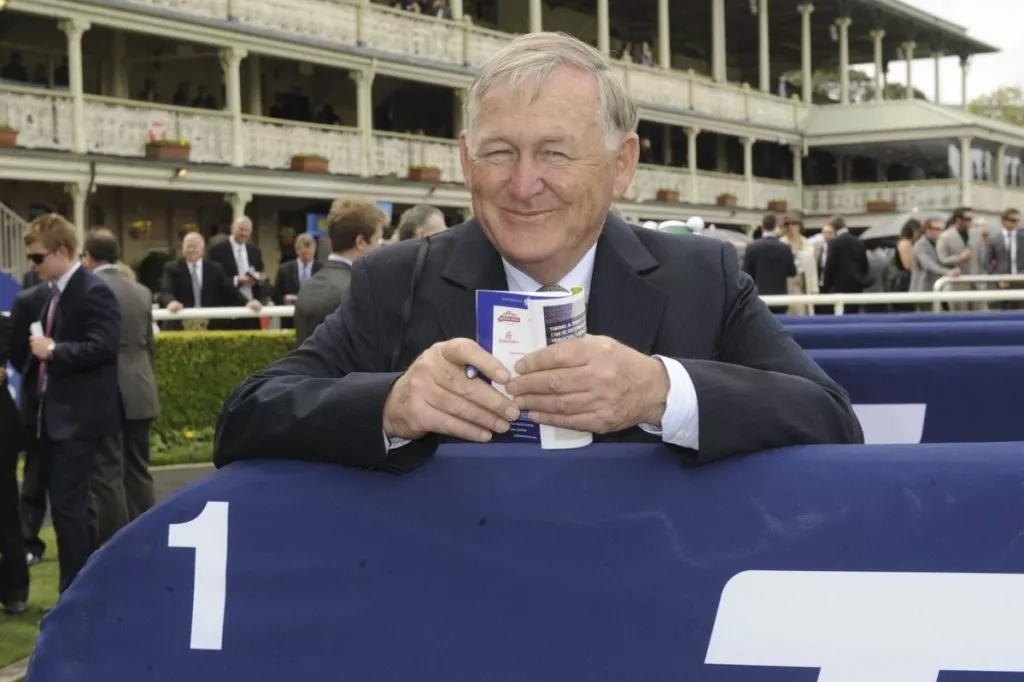 KEN ON NAMING OF THE RACE: "I love Royal Randwick and to think there is a race named in my honour is very, very humbling,'' Ken said.
"I couldn't choose a better partner for this race than Max Presnell.
"We've had so much fun over almost 60 years, whether it be at dinner with our wives, at the bar arguing about football or cheering home a winner together.
"Max is a true mate, like a gold nugget, very hard to find.''
MAX ON NAMING OF THE RACE: "Royal Randwick is my sacred turf,'' Max said.
"Being reared nearby, having played Rugby League for Kensington Public School in the centre, track firm, dodging the racecourse manager George Johnstone and his savage hound when using the course proper as a romping ground, headquarters was the start of a life-long association before it gained the "Royal" affirmation.
"To share a major event title there with my mate Ken Callander? Unbelievable comes to mind, but I'll settle for awesome.''
KEN'S BEST MOMENTS AT ROYAL RANDWICK: "First day I walked through the gates as a 17-year-old. My immediate reaction was: Wow, this is me, this is my scene'.
"When I retired from TV in 2007 the Club held a "Kenny Day". They had banners in Alison Road and a lot of publicity and I thought it was a lot of overkill.
I nearly chickened out but it turned out an absolutely fabulous day for both Helen and I. We realised that there were a few supporters who didn't think 'Kenny' was too bad a bloke.''
MAX's BEST MOMENTS: "The 1961 AJC Derby, featuring the greatest ride I've seen at Randwick or anywhere else when Mel Schumacher on Blue Era grabbed rival Tommy Hill's leg and lost the race on protest to Summer Fair.
"Imagine the power and balance of a jockey that can change a result with horses in full flight. Infamous? Yes. Memorable? Absolutely.''
"It was the first big story I covered and probably the best.''
KEN'S BEST RACING MOMENTS: "Two great Derbies at Royal Randwick in 1973 and 1995.
"In '73 Imagele won by centimetres over Leica Lover and Grand Cidium and it was a similar finish in '95 when Octagonal nosed out Saintly, Nothin' Leica Dane and Filante.
"Both times the favourite won too, so punters went home happy.''
Similar Stories