May 9, 2020
Situated across the rolling hills and river flats of the beautiful Segenhoe Valley, Vinery Stud, one of Australia's most successful and respected thoroughbred farms, pays tribute to the role of the mighty broodmare, as we celebrate Mother's Day on Sunday 10 May.
With more than 20,000 broodmares in Australia, with some 7000+ (38 per cent) in NSW alone, we learn more about the special role this equine heroine plays, with Vinery Stud Bloodstock Manager Adam White.
How important is the role of a broodmare in the thoroughbred industry?
Significant. Without mares we have no produce to take to the bloodstock sales; they are the lifeblood of the industry. A good quality broodmare or broodmare band is extremely important to any breeder despite what level they invest in. I personally love being around the mares as they all have different personalities and tendencies and you can certainly warm towards certain ones.
What makes a good broodmare?
Those mares that can consistently produce good looking stock with good temperaments are worth their weight in gold. Mares who are attentive, patient and put everything into their foals give you a higher percentage of getting good returns in the market place. Ideally you also want a mare which produces or comes from an active and winning family to generate that extra interest when you are at bloodstock sales with their stock.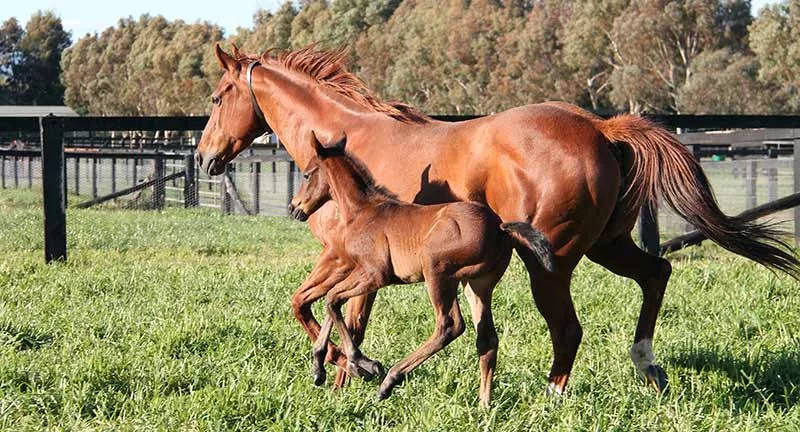 Night War and her foal by All Too Hard
How long does a broodmare carry a foal before birthing?
The gestation period is 11 months and 5 days. Some mares during the course of their breeding careers will get to a stage where they may be foaling late in the season and then the owner may wish to give them the year off before starting again early the next season.
How many broodmares do you host on the farm?
We have what we call a 'resident' broodmare band of just over 200 mares at Vinery. They are either owned by us or clients that do not have their own properties. During the breeding season that number will increase when 'visiting' mares arrive to foal down, get covered by our stallions, and return back to their owners' properties.
How many foals are born on average on your farm?
We normally foal down around 200 foals per season from August 1 until mid-November.
Who are some high profile broodmares on your farm that we might know?
We have some lovely mares that reside at Vinery which were highly successful racehorses. This includes Snitzerland and Samaready who both were successful in Sydney Group races including a second and a third (respectively) to Pierro in the 2012 Longines Golden Slipper. We also have Sacred Choice who won the 2011 Group 1 Doncaster Handicap Mile at Royal Randwick.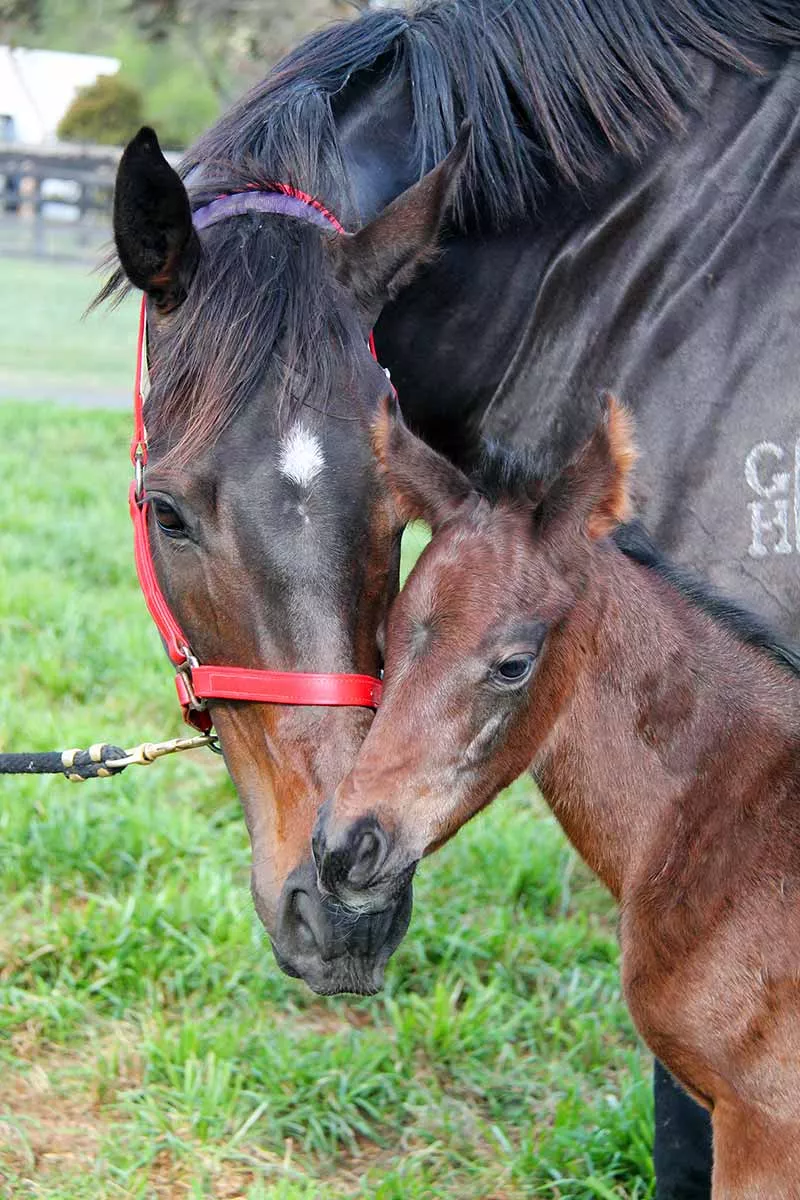 Samaready and her All Too Hard foal
What is a typical year like for a broodmare?
Once foals start arriving from August 1 onwards, mares rotate through paddocks until they work their way back to the foaling unit as they get closer to their due date. Post foaling they stay in a small grass yard with their foal for roughly nine days while the foal strengthens so we can closely monitor their progress.
They then return to larger paddocks with other mares and foals. Approximately three weeks after foaling, the mares come into season and are covered again by a stallion. At 5 to 6 months of age, the foals are weaned from the mares and handled by our staff for about a week before being turned out into mobs of about 10. The mares at that stage get paddocked in groups of about the same number for the winter until they are again brought closer to the foaling unit.
They are fed each morning and checked both morning and afternoon to ensure everything is well and that they are happy.
As far at mating planning goes, during winter is when most breeders will start working on what stallion they wish their mares visit for the upcoming season. Some breeders may leave it a little later to see what type of foal they get from a particular stallion before making the decision for the next season.
What types of professionals help keep a broodmare healthy?
Things like dentist and farrier checks are routine procedures to ensure the mares are in fantastic health and these occur regularly. Vets normally only attend the mares if there is an issue, or in the lead up to and post-foaling so that we can keep a check on their health and ovulation cycle. Once covered again by a stallion they have scans at 15 days, 28 days and 45 days. If they happen to not be in foal they are covered again or rested for a season.
We have highly qualified staff looking after the mares at all stages of their cycle. For example, there is a foaling unit team (day and night), then there is a team of people who specifically work with the 'dry' and 'maiden' mares. It's a really rewarding industry to work in.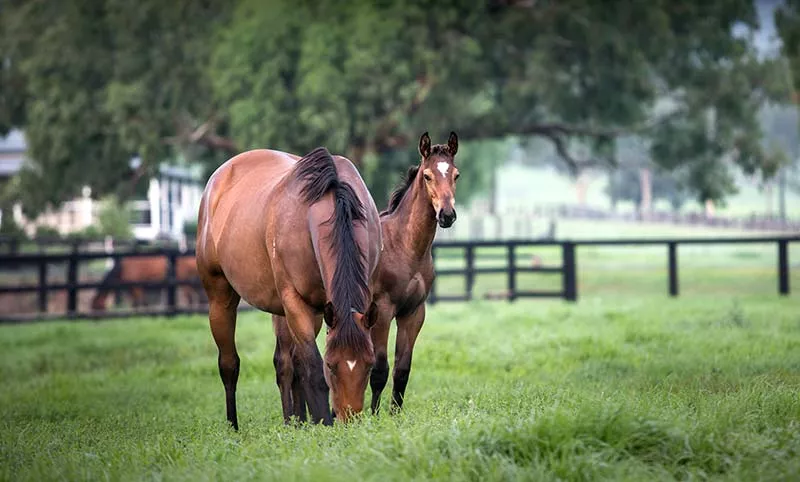 A mare and foal at Vinery Stud in the Segenhoe Valley
All images courtesy of Vinery Stud
Similar Stories