BRITISH RACING COMMEMORATES LONGINES QUEEN ELIZABETH STAKES WINNER THINK IT OVER IN PLATINUM JUBILEE YEAR
June 2, 2022
Find below a Platinum Jubilee media pack containing extensive information about Her Majesty Queen Elizabeth II and her involvement in racing
Click here for a video of Her Majesty's 1954 visit to Royal Randwick and a history of her visits to Sydney racecourses.
MEDIA RELEASE:
The Australian Turf Club has joined with British Racing to celebrate Her Majesty The Queen's Platinum Jubilee with a special presentation and planned future Sydney raceday celebrations.
To mark Her Majesty's 70th year as Monarch, British Racing made the unique presentation to the winners of this year's Group 1 $A4 million Longines Queen Elizabeth Stakes at Royal Randwick as part of a celebration of Her Majesty's international impact on the global sport of thoroughbred racing.
Richard Johnston of Bylong Park Racing, the owner of Think It Over who recently won the Group 1 Longines Queen Elizabeth Stakes winner at Royal Randwick, received a strawberry dish commissioned by Great British Racing International and QIPCO British Champions Series on behalf of British Racing, and produced by Royal jewelers, Garrard.
The Australian Turf Club's Longines Queen Elizabeth Stakes, held in early April, is among several races staged globally that are named after Her Majesty The Queen.
Her Majesty's eponymous race in Great Britain, the Group 1 Queen Elizabeth II Stakes (sponsored by QIPCO), is held on QIPCO British Champions Day in October.
Together, the races are indicative of the respect in which Her Majesty is held by the world's racing community and symbolic of her far-reaching impact on the sport.
Upon receiving the commemorative dish Mr Johnston said: "Her Majesty is loved and admired here in Australia, particularly amongst the racing fraternity that share her passion for the thoroughbred.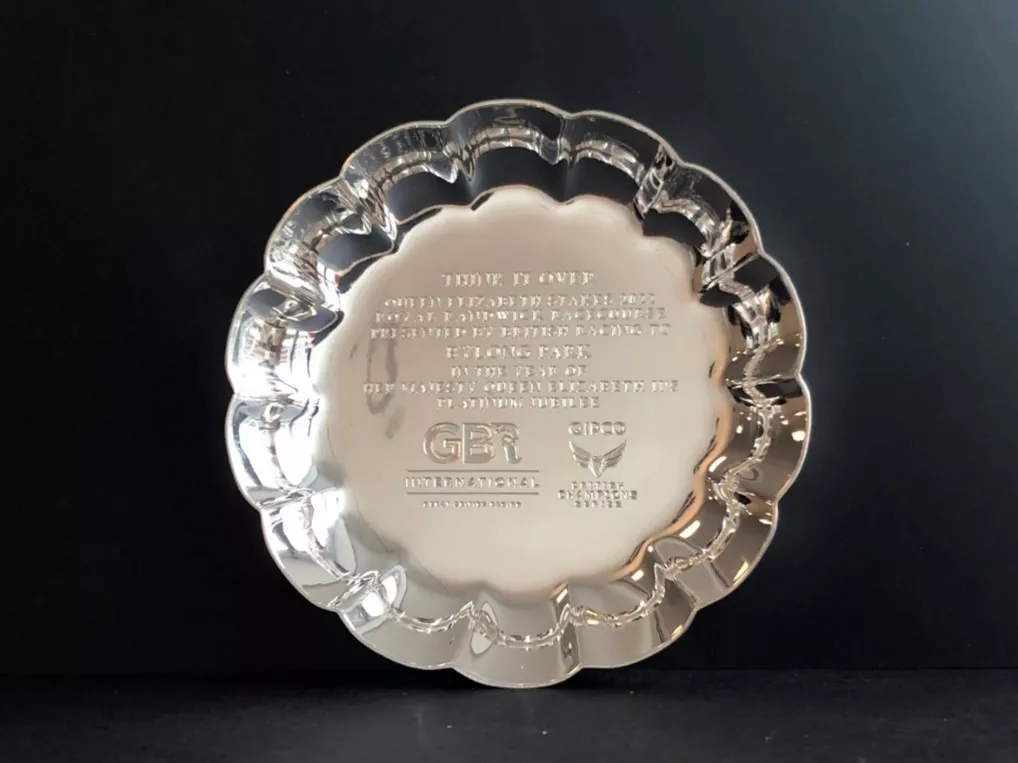 "To play a miniscule part in celebrating her Platinum Jubilee, as a result of Think It Over's effort in winning the prestigious Longines Queen Elizabeth Stakes, I find it both humbling and a source of great joy. I will be sure to give him a pat for Her Majesty."
Australian Turf Club CEO Jamie Barkley said: "Her Majesty Queen Elizabeth II's contribution and passion for horse racing is admired the world over and we are extremely proud to have horses in her famous silks both racing and training at the Australian Turf Club's Sydney racecourses.
"We also owe a significant part of our history to Her Majesty's legacy in granting official status to Royal Randwick Racecourse, where our Club has been privileged to host several Royal visits.
"The most notable of these was in 1954, the year which commenced the Queen Elizabeth Stakes, and it is most appropriate we are paying tribute to Her Majesty on the 70th renewal of this flagship Australian race."
Rod Street, CEO of Great British Racing and QIPCO British Champions Series, said: "Her Majesty The Queen's lifelong passion for racing has created widespread interest and global investment in the sport throughout her reign and her attendance on a racecourse always creates a special occasion. That there are so many prestigious races named after her internationally is testament to her patronage of the sport throughout her life and we are delighted to be marking the Platinum Jubilee with this special presentation."
The Australian Turf Club will host racedays at Rosehill Gardens and Royal Randwick in June to help commemorate and celebrate Her Majesty's Platinum Jubilee.
The days on Saturday 4 June (Rosehill Gardens) and Saturday 11 June (Royal Randwick) – around the official 70th anniversary – will include Heritage displays and content across LED screens on course and "surprise and delight" food items, along with on course colour to mark Her Majesty's achievement.
The Australian Turf Club is also planning to build a garden at Royal Randwick to mark Her Majesty's Platinum Jubilee and association with the Club.
– Ends –
Notes to editors
Strawberry dish engraving:
THINK IT OVER
LONGINES QUEEN ELIZABETH STAKES 2022
ROYAL RANDWICK RACECOURSE
PRESENTED BY BRITISH RACING TO
BYLONG PARK
IN THE YEAR OF
HER MAJESTY QUEEN ELIZABETH II'S
PLATINUM JUBILEE
About Great British Racing International 
Great British Racing International (GBRI) was launched in April 2013 by Great British Racing Limited (formerly Racing Enterprises Limited), The British Horseracing Authority and The Horserace Betting Levy Board.
GBRI facilitates and grows international investment into the British racing and breeding industries. GBRI provides a bespoke service for those seeking to invest in the highest levels of thoroughbred racing in Britain, as well as marketing British racing to a wider international audience. As a world leader in the sport, British racing is a prime opportunity for investment at all levels.
Twitter – @GBRI_UK https://twitter.com/gbri_uk
Facebook – @GreatBritishRacingInternational https://www.facebook.com/GreatBritishRacingInternational/
Instagram – @gbri_uk https://www.instagram.com/gbri_uk/
About QIPCO British Champions Series Limited
QIPCO British Champions Series showcases 35 of the UK's finest Flat races, including three of the world's top 10. The Series features at all of the UK's most iconic Flat festivals, from the Derby and St Leger, to Glorious Goodwood and Royal Ascot, presenting unparalleled, quality racing across 10 of the country's finest racecourses.
The Series includes world-class sporting action across five different categories – Sprint, Mile, Middle Distance, Long Distance and Fillies & Mares.
Five top-class races mark the climax of the Series on the Ultimate Raceday, QIPCO British Champions Day at Ascot on Saturday 15th October, where the world's best compete at the nation's richest raceday.
Put simply, QIPCO British Champions Series shines the spotlight on the best horses, the best jockeys and the best racecourses, so that millions worldwide can follow the finest Flat racing.
For more info on QIPCO British Champions Series and Day visit britishchampionsseries.com
Similar Stories