September 14, 2021
ANN SHOEBRIDGE – MILLINER
Renowned for creating chic headwear for horseracing, weddings, parties and catwalks, Ann created her first collection in 2003 and has since attracted a large worldwide fanbase for her original and playful creations, gracing reception rooms of Danish royalty to dance floors in Paris.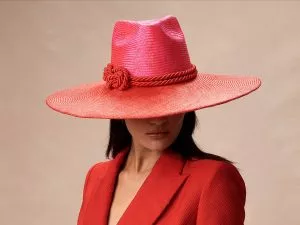 The creative process for me starts with a spark of inspiration from music, film or a novel I've read. A collection is sketched and styles are selected that best interpret the season. Spring always brings fresh looks in vibrant pinks, yellows and blues – a riot of colour.
Materials are chosen to give texture and wearability, these are then blocked on wooden hat blocks giving structure and form. I have a growing collection of vintage blocks that reflect the classic looks I prefer to create.
This spring I designed a fedora in a clash of hot pink and red, a bold statement piece that reflects fun and optimism. The rope trim is a hint to my 'Salut Marin' collection. Paired with sharp tailoring or a silk wrap dress this piece will bring 80's glamour to all occasions. – Ann Shoebridge
FORD MILLINERY
Established by designer and businesswoman Chantelle Ford in 2013, Ford Millinery is an iconic Australian fashion label that creates unisex hats, bespoke fascinators, headpieces and fashion accessories, using quality materials sourced from all over the world, with a focus on sustainability and community.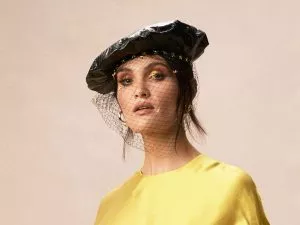 Having collaborated on so many looks together, Donny and I have developed
a beautiful process when it comes to designing bespoke pieces. Donny knew he wanted a beret, I explored some textures, and ultimately we agreed that "deluxe" was the angle.
Luxurious black vegan crocodile look leather was the material of choice for the beret base, and we wanted to accentuate the metallic sheen of the yellow dress with gold-toned beveled metallic star studs. The black veiling was a bit extra to bring the beret into special occasion wear, with a few stars on the veil to really elevate the look. – Chantelle Ford
EMBELLISH ATELIER
A passion for traditional and contemporary millinery techniques including beading, silk-flower making and leatherwork, Embellish headpieces, designed by Catherine Kelly, are unique, hand-stitched and constructed with a true artisanal approach.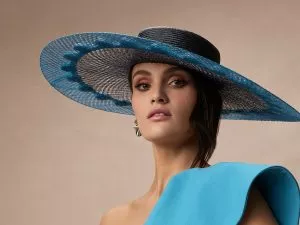 I was inspired by the vibrant blue colour of the Mossman dress and because the dress is quite structured and modern, Donny and I agreed it would suit a large brim style hat.
The consultation and design process involved a couple of rounds of sketches and looking at various fabrics and materials that would be most suitable. We decided to do a contemporary version of our extended bias brim window pane technique.
The navy blue and aqua blue hat creation features a dot detail created with a Swiss braid, which is simultaneously playful and refined. The circular swirls of the braid, complement the ruffles in the dress. – Catherine Kelly
SOMEWHERE HERE NOW
Well known for her work as costume designer for iconic Australian band Empire of the Sun, Andrea Cainero's talents also extend to millinery, having trained at East Sydney Tech and Fashion Design Studio TAFE NSW, where she is now also the Head Teacher.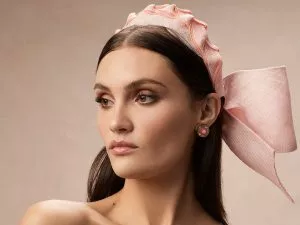 Collaboration is one of my favourite things to do. Once Donny sent me a mood board of the Acler dress and accessories, I researched the dress shape and came up with concepts featuring images of fabrics and materials in different colour combinations.
The piece is made from a beautiful straw material called sinamay that can be sculptured into many forms. Sinamay has a great natural texture that I wanted to enhance through the braided structure of halo crown. I also introduced another tone into the piece to tie back in with the gorgeous print on the dress and elevate the headpiece.
The back bow adds enough drama to meet the exaggerated silhouette of the dress, but not overpower it. The whole piece has a wire structure that fits effortlessly and securely on the head for comfortable wear. – Andrea Cainero
VIKTORIA NOVAK
Celebrating 15 years as an acclaimed Australian leading couture bridal, occasional and racewear milliner, Viktoria Novak's hand-made signature creations are recognized for their unique detailing and high-quality finishes in the most luxurious materials. Collections are often inspired by royalty, opulence and a French Parisian chic style, transcending a modern regal goddess.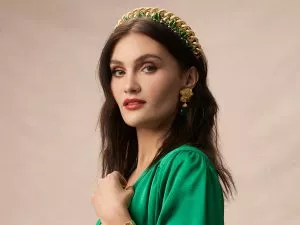 My design philosophy is simple – each creation is as individual as the client, unique masterfully handcrafted and detailed to absolute perfection!
One of my favourite and most sought-after creations is the "Miss T" gold chain crown which features a vintage matte gold-plated chain. The beauty of this crown provides the opportunity to restyle the piece differently, by layering some of my other signature designs alongside the ornate chain feature.
We decided to layer "Miss T" with a bespoke emerald crown inspired by my love of the movie, "The Wizard of Oz". Name, "Emerald City", this exclusive one-off crown features an array of emerald and green tone Swarovski crystals and pearls, showcasing a perfect combination of contemporary and classic vintage style.
Similar Stories
TRACKSIDE STYLING TIPS
Jess Pecoraro, Official Stylist to Australian Turf Club shares her top tips to make sure you are looking your best..
Read Article