2023 SSSA finalists represent the essence of Australian racing
April 3, 2023
A man who has devoted more than 70 years to one of Australia's most famous racing stables, a former Uber Eats driver who accidentally discovered an affinity with thoroughbreds and a pair of women who have enriched the lives of hundreds of horses are among an extraordinary crop of finalists in the 2023 Australian Stud and Stable Staff Awards.
After sifting through one of the largest and most distinguished entries the awards have attracted, the judges settled on two finalists in each of seven SSSA categories.
And if there is one pair of contenders that represents what the SSSA stands for, it is John Brady and Ian Smith, in the Dedication to Racing category.
Known to everyone at Randwick as "Crewie", John Brady arrived at the stables of legendary trainer Tommy Smith as a 14-year-old in 1950 – and he's been there ever since, riding trackwork, mucking out boxes, dispensing wisdom and putting his personal touch on a long list of champions.
At 66, the other Dedication to Racing finalist, Ian Smith, is a youngster by comparison, but "Ginger" as he's known, is an equally worthy contender.
Smith, who is officially registered as a stablehand with trainer Annabel Neasham, is unofficially regarded as "Sydney's pre-eminent freelance strapper".
In the words of his nominator, racing chaplain Colin Watts: "Ian is a caring gentleman, he does an immaculate job, he knows what he's doing, he's very punctual, and he just goes all day."
Among the other finalists joining Brady and Smith at the SSSA ceremony on 24 May at the Gold Coast Turf Club will be Vivek Shamar, the one-time Uber Eats driver whose first contact with horses came a couple of years ago when he delivered food to the stables of Ciaron Maher and David Eustace.
Shamar soon swapped the car keys for a broom and shovel – and hasn't looked back. Along with James Green from Armidale Stud in Tasmania, he is a finalist in the Newcomer Award.
In the Thoroughbred Care and Welfare category, Louise Abey and Julie Bramucci are the latest pair of "angels" to be named SSSA finalists.
Abey and Bramucci, both from Victoria, re-home and re-train scores of horses every year, largely at their own expense.
The finalists in the Dedication to Breeding category are Kayleigh Murray, the stud manager and veterinary nurse at Fernrigg Farm at Denman and Joel Stewart, the assistant stud manager at Yulong in Victoria.
In the Leadership section, the finalists are Finn McCarthy, a foreman for Tony and Calvin McEvoy at McEvoy Mitchell Racing, and fellow Irishman Sean Keogh, a senior foreman at Godolphin's Victorian base at Flemington.
Emile Fredericks, the assistant yearling manager at Widden Stud, is a finalist in the Horsemanship category after being nominated twice previously. He is joined by Hazel Fertier, whose nomination is officially backed by just about every trainer at Murray Bridge in South Australia.
As well as the "hands on" categories, the SSSA recognises those who keep the wheels turning from the offices and other backrooms of the industry with the Administration and Ancillary Services award for which the 2023 finalists are Matt Harrington, the General Manager of trainer Danny O'Brien's racing operation and Mary O'Neill, the "uncrowned queen" of Newgate Farm.
The Stud and Stable Staff Awards offer cash prizes of $10,000 to the winners in each of the categories of Dedication to Racing, Dedication to Breeding, Horsemanship, Leadership, Thoroughbred Care and Welfare and Administration. The Newcomer Award offers a cash prize of $5000, with the runners-up in each of the seven categories receiving $3000.
A Thoroughbred Excellence Award of an additional $5000 will be made to a nominee chosen from the winners of the various stud and stable awards, excluding Thoroughbred Care and Welfare and Newcomer.
The SSSA are staged by Thoroughbred Breeders Australia and Racing Australia and are supported worldwide by Godolphin with sponsorship from the Victoria Racing Club, William Inglis and Son, Magic Millions, the Australian Turf Club, the Melbourne Racing Club Foundation, Racing Queensland, Thoroughbred Industry Careers and Marcus Oldham College.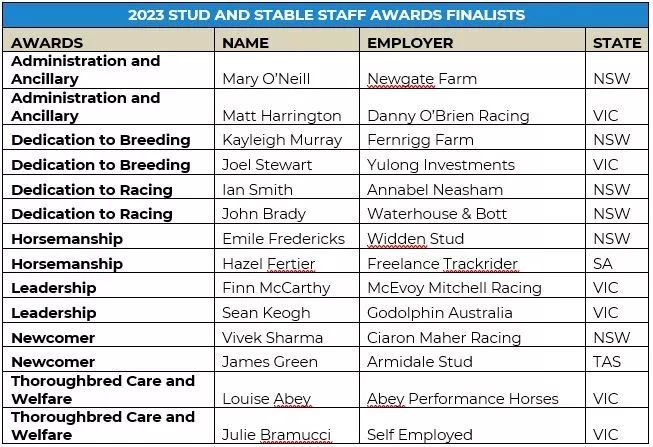 Similar Stories